Polynesia II
Bora Bora, Nuku Hiva, Hiva Oa, Rangiroa
Even if the service was lousy when we spent our honeymoon in Polynesia in 1995 but the sharks alone were worth returning.
We started this time on Nuku Hiva, an island of the Marquesas, more than 1000km north of Tahiti. We lounged in the most expensive hotel which is called the Nuku Hiva village. In fact these are some huts with lots of animals( spiders, bugs, ..rats?..) just on the shore.
The contryside is fantastic, high mountains and small bays. We were lucky that we've chosen the helicopter transfer as the taxi would have taken hours...
When we reached the bay of Tahoe we were quite disappointed: even as we knew that we wouldn't find the beautiful beaches of Bora Bora, we did not expect to see brown water.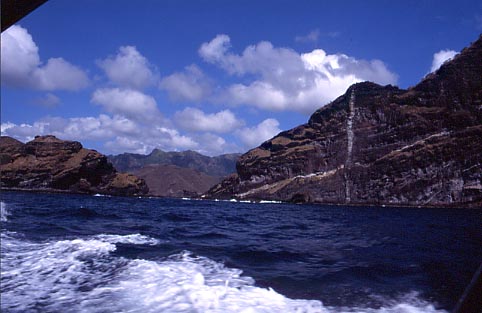 Well this island has no barrier reef and so you don't need to go far if you want to see fish. And here I mean BIG BIG fish.
The first dive was in the bay and with a visibility of less than 3m. You can clearly imagine the shock when you're suddenly face to face with a 3m hammerhead!
Sometimes there were no fish sometimes the visibility opened up to 15m and then there were dives like in a dream: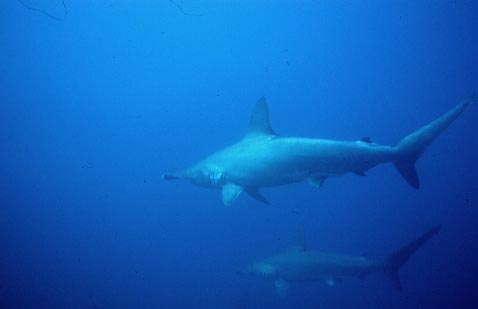 One dive we already encountered 2 manta rays when we went down to the anker. Some meters later we were face to face with some whitetipped reefsharks. Then a turtle passed by only to let us see about fifty spotted eaglerays behind. I'm not lying when I tell you that once they were left, a bank of hundreds of yellowtail macrels darkened the sky and they were just pushed beside by a giant manta ray 3/4m which headed straight on us. It made 2 loops and disappeared, the macrels came again, we then returned and fell back on the eaglerays, the sharks and until our mounting to the surface we had the mantas around us.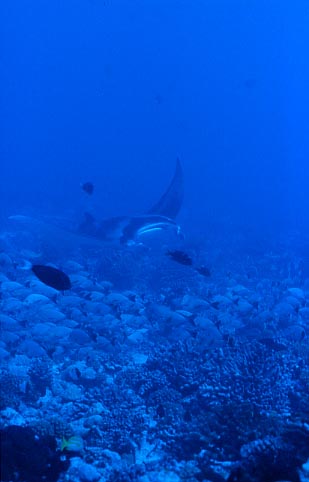 This is something you have to live to believe it. BUT: there were dives where you saw more in a pond than that day........and prices are really high.
Click here to see what Bora Bora was like