POLYNESIA-Moorea, Huahine, Bora Bora, Marquises
Our Honeymoon lead us to a real dream destination: the islands of French Polynesia.
When we first saw a video about them we immedeatly decided to go for one reason: sharks, sharks and sharks. And we should not be disappointed.....
Our trip started on the island of Moorea, a very tropical island with high elevations.(We underestimated them when we rent a bike..)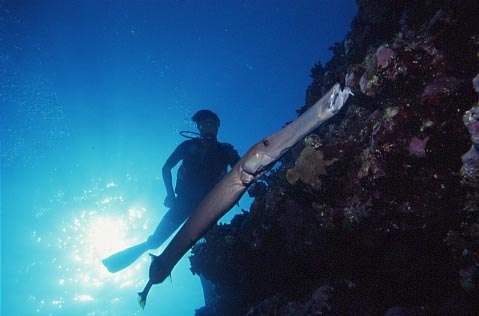 We were diving at the Moorea Beachcomber Hotel. One of the most expensive destinations on the world. On every dive we were accompagnied by black tipped and white tipped reef sharks. When the owner of the base told us that even the TV came here to film for Ushuaia the famous lemon shark we also wanted to see it. And we got it. Several times we were very close to this ugly green/yellow thing. About 3m of length make it really impressive.
Another common thing on this island are the shark feedings. You get the real thrill!!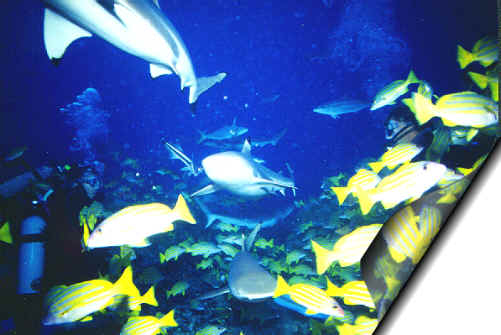 At the end of one shark feeding, my wife and me decided to go to the edge of the barrier to see if there was something else and we saw it comming...
First we thought it was a whale shark but when it came closer and we thoght about the fact that it was swimming on the ground, we understood that we were just about to face a tiger shark of about 6m.. we never thought that we'd see Switzerland again and when it came to us we just lay down on the ground and stopped breathing. When it was about 2m from us, it just turned and got away.. You can imagine that we did the same thing.....
The second island was Huahine. A very wet island with lots of mosquitos and a very small and bad dive base.. The owner was a Polynesian guy who was the Godfather of the local mafia..
The dives were effected from a very small boat. Heavy currents and bad visibility were excused by a huge bank of eagle rays and big grey sharks.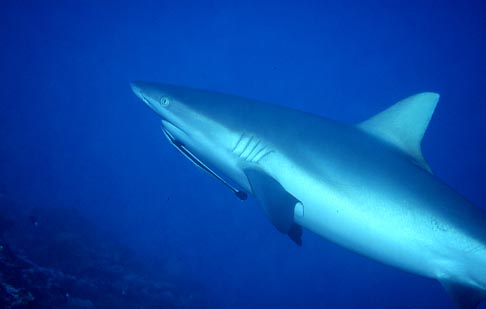 One day the divemaster had an epileptical attack..so far about security...
The third and last island was Rangiroa. 2 Km long and maximum 100m large island, not very far from Muorora. We had the chance to dive in the pass of the hundred sharks. Everything we were told before was true. Hundreds of grey reef sharks were waiting in the current for you. Once you arrived, they just let you pass by. Here we saw nearly everything: Manta rays, white tipped, black tipped and grey sharks. Spectacular dives in the big blue (more than 800m of water under you) with 3m silvertip sharks comming up and joining the silky sharks to a distance of 1m ....the macro lens would be enough.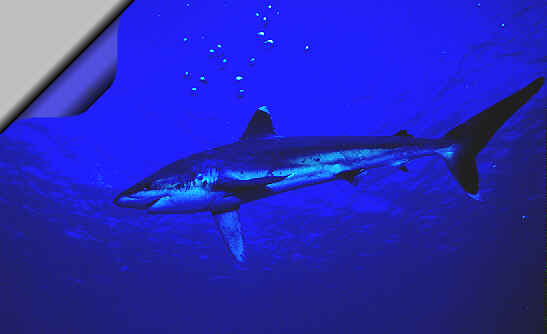 We also saw huge dolphins and many other fish, an other group even saw a marlin...
For sharks one of the best destinations in the world. Until april one may even see the big hammerheads. Very often very deep dives (50-60m), no deco chamber and very heavy currents. Don't forget your bouye..
The following link will give you the infos about Bora bora and the Marquisas: